Trakx Digital Assets Newsletter
Weekly News for Institutional Investors
Key Crypto Market Figures

Crypto Tradable Indices (CTIs) Weekly Performance
Crypto markets continued to suffer new lows as the hotter than expected US CPI print and the 75bp Fed rate hike - the largest hike since 28 years - confirmed the challenging macro backdrop. All Trakx indices were in negative territory last week, with Trakx Top 10 Crypto Index lost 16% in price over the week. Liquidity problems by some firms such as Celsius Network, a crypto lender, which suspended client withdrawals exacerbated crypto price weakness.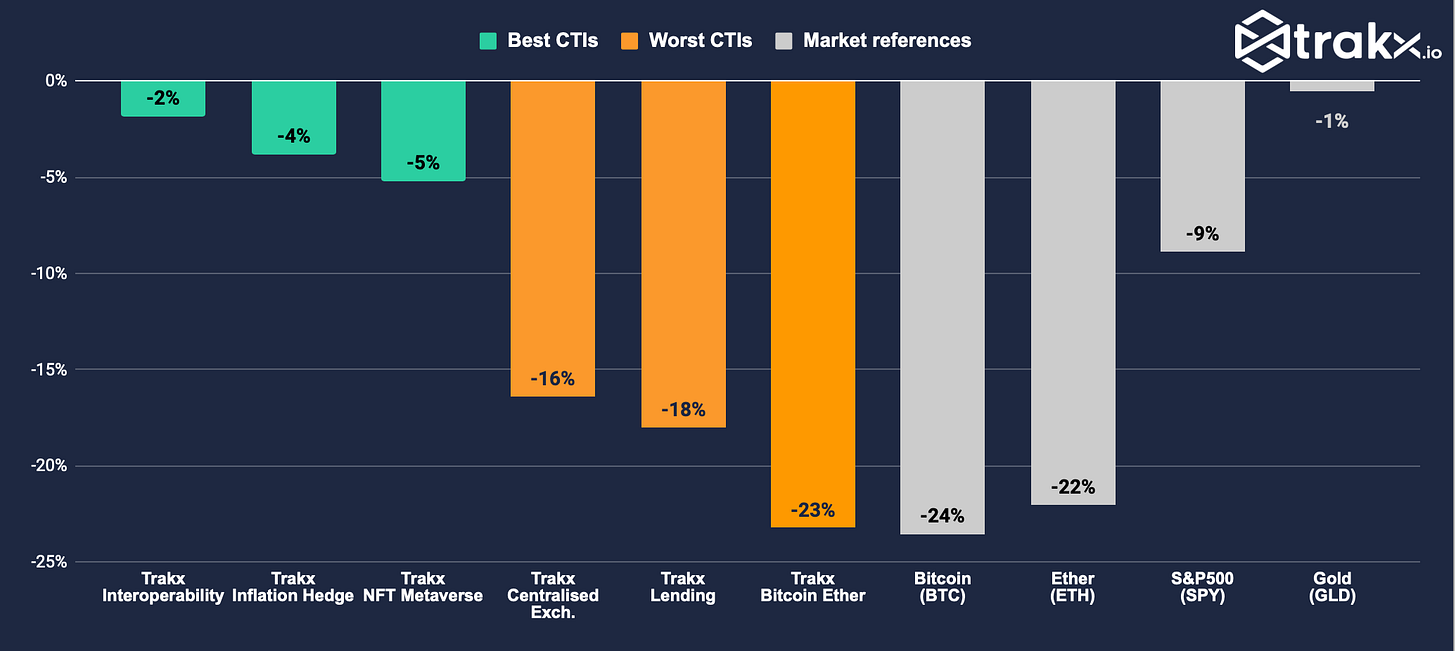 Trakx sources: Coingecko and AlphaVantage
Market Trends
Trakx News
Ryan Shea has published Crypto Contagion, a research paper analysing the current market downturn.
Trakx hosted a private event in Paris last week where Christophe Barraud (Chief Economist at Market Securities) and Lionel Rebibo (CEO at Trakx) discussed the global macroeconomic outlook for 2022 and the current state of the cryptocurrency market.
Trakx CTIs Performance
Sources: Coingecko and AlphaVantage
*Return of bitcoin is calculated since 01/05/2020, while CTIs performances were calculated since their respective launch date.
**Includes simulated performance.
***The risk signal is determined according to the historical volatility level, the higher the riskier.

Trakx is a global fintech company creating new standards for digital asset investments. Through our trading platform, we offer thematic Crypto Tradable Indices (CTIs) and customised solutions, providing sophisticated investors a high degree of compliance, custody and liquidity. Trakx is registered with the French regulator (AMF).
Disclaimers: No Investment Advice. Index returns and statistics are for illustration only. Index returns do not reflect any transaction costs or expenses. Past performance does not guarantee future results. The information provided in this newsletter does not constitute investment advice, financial advice, trading advice, or any other sort of advice and you should not treat any of the newsletter content as such. Trakx.io does not recommend that any cryptocurrency should be bought, sold, or held by you. Readers shall conduct their own due diligence and consult their financial advisors before making any investment decisions.
Contact us
Website www.trakx.io
Email [email protected]
Twitter https://twitter.com/Trakx_io
Linkedin https://www.linkedin.com/company/trakx-io/
Join our community
Telegram https://t.me/official_trakx