Trakx Digital Assets Newsletter
Weekly News for Institutional Investors
Key Crypto Market Figures

Crypto Tradable Indices (CTIs) Weekly Performance
Ether leads crypto markets to higher levels as Ethereum's final merge test goes live and the date for the merge has been moved up to the 15th of Sept. Trakx Top 10 Crypto Index is up 9% and the crypto sentiment (45) has bounced back to a more neutral level, though still in the Fear territory.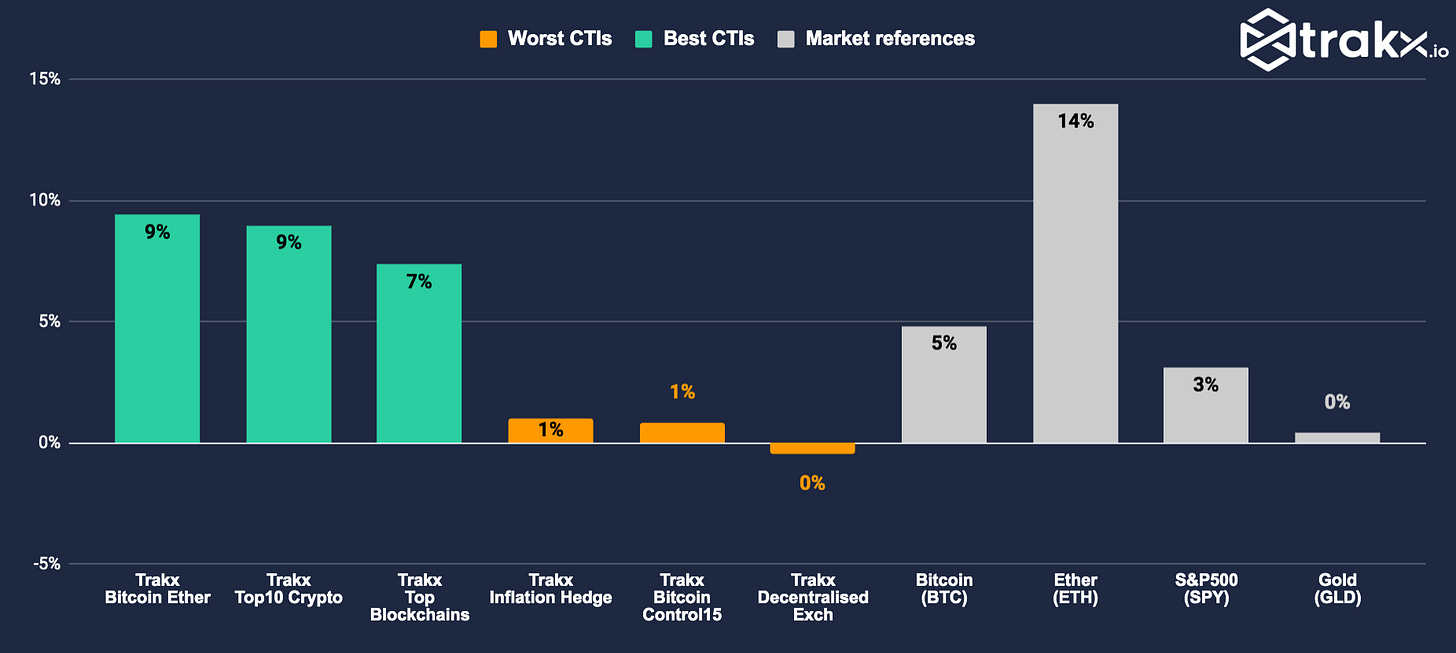 Trakx sources: Coingecko and AlphaVantage
Market Trends
Trakx News
Ryan Shea was quoted by Taylor Locke in Fortune Bitcoin and Ethereum jump on inflation news, talk of 'summer rally' and by Paul Golden in Euromoney How privacy coins push crypto anonymity to the max
Trakx CTIs Performance

Sources: Coingecko and AlphaVantage
*Return of bitcoin is calculated since 01/05/2020, while CTIs performances were calculated since their respective launch date.
**Includes simulated performance.
***The risk signal is determined according to the historical volatility level, the higher the riskier.
Trakx is a global fintech company creating new standards for digital asset investments. Through our trading platform, we offer thematic Crypto Tradable Indices (CTIs) and customised solutions, providing sophisticated investors a high degree of compliance, custody and liquidity. Trakx is registered with the French regulator (AMF).
Disclaimers: No Investment Advice. Index returns and statistics are for illustration only. Index returns do not reflect any transaction costs or expenses. Past performance does not guarantee future results. The information provided in this newsletter does not constitute investment advice, financial advice, trading advice, or any other sort of advice and you should not treat any of the newsletter content as such. Trakx.io does not recommend that any cryptocurrency should be bought, sold, or held by you. Readers shall conduct their own due diligence and consult their financial advisors before making any investment decisions.
Contact us
Website www.trakx.io
Email [email protected]
Twitter https://twitter.com/Trakx_io
Linkedin https://www.linkedin.com/company/trakx-io/
Join our community
Telegram https://t.me/official_trakx