Trakx Digital Asset Newsletter
Weekly news for Institutional Investors
Trakx offers sophisticated digital investment strategies for institutional investors and experienced traders. We do that by providing digital-asset index products on a platform with the compliance, custody and liquidity needed by large investors.
Crypto Traded Indices (CTIs) Weekly Performance
A new positive week for Trakx CTIs. Past week best performers were within Decentralised Finance (DeFi) with Lending (+20%) and Top10 DeFi (+13%) thanks to MakerDao exceptional performance (+119%) over the week. We have updated weekly performances as of midnight instead of 5pm (BST)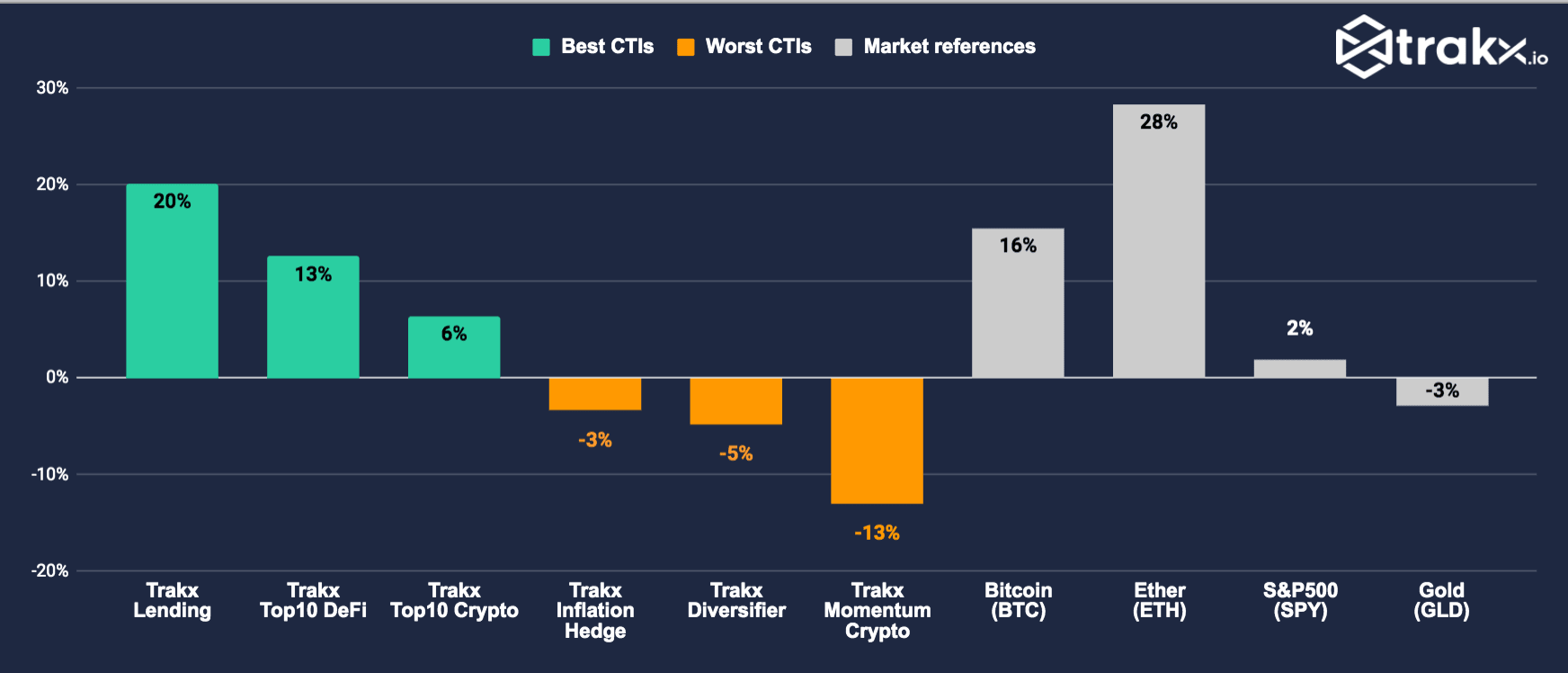 Sources: CryptoCompare and AlphaVantage
Market Trends
Federally chartered banks and thrifts may participate in independent node verification networks and use stablecoins for payment activities: Office of the Compcontroller of the Currency
Trakx CTIs Performance
Sources: Trakx, CryptoCompare
Trakx CTIs Sharpe ratio and 2020 returns above take into account backtest simulated performances calculated since 31 Dec 2019.
*Return and volatility of bitcoin are calculated since the 01/05/2020, while CTIs performances were calculated since their respective launch date.
** Simulated backtests under review for the complete 2020 data points.


Disclaimer: No Investment Advice. Index returns and statistics are for illustration only. Index returns do not reflect any transaction costs or expenses. Past performance does not guarantee future results. The information provided on this newsletter does not constitute investment advice, financial advice, trading advice, or any other sort of advice and you should not treat any of the newsletter content as such. Trakx.io does not recommend that any cryptocurrency should be bought, sold, or held by you. Readers shall conduct their own due diligence and consult their financial advisor before making any investment decisions.
Contact us
Website www.trakx.io
Email [email protected]
Twitter https://twitter.com/Trakx_io
Linkedin https://www.linkedin.com/company/trakx-io/