Trakx Digital Asset Newsletter
Weekly news for Institutional Investors
Trakx offers sophisticated digital investment strategies for institutional investors and experienced traders. We do that by providing digital-asset index products on a platform with compliance, custody, and liquidity needed by large investors.
Crypto Traded Indices (CTIs) Weekly Performance
The recent fall in the digital market begins to slow with Bitcoin making a slight gain from last week, this has lead to the levelling out of some of out Crypto Traded Indices's (CTIs) . The steepness of the market drop has cushioned this could be attributed to further global recognition of digital currencies by the UK and Korea.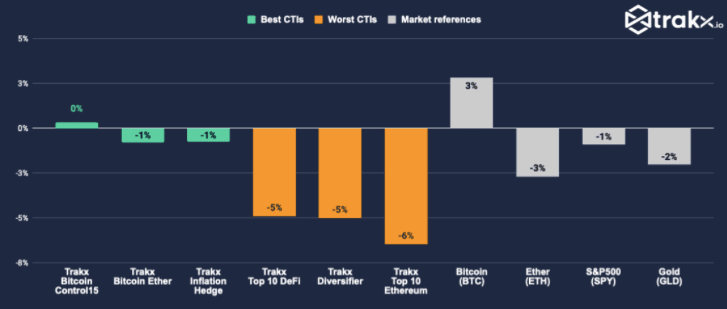 Source: Coingecko and AlphaVantage
Market Trends
Trakx News
Trakx CTIs Performance
Sources: Coingecko and AlphaVantage
*Trakx CTIs calculations take into account backtest simulated performances calculated since 31 Dec 2019.
**Return of bitcoin is calculated since 01/05/2020, while CTIs performances were calculated since their respective launch date.
***Most NFT protocols are too young to allow calculation of simulated performance prior to February 2021. Trakx Top 10 NFT statistics only include a real track record since 31 March 2021.
Disclaimers: No Investment Advice. Index returns and statistics are for illustration only. Index returns do not reflect any transaction costs or expenses. Past performance does not guarantee future results. The information provided in this newsletter does not constitute investment advice, financial advice, trading advice, or any other sort of advice and you should not treat any of the newsletter content as such. Trakx.io does not recommend that any cryptocurrency should be bought, sold, or held by you. Readers shall conduct their own due diligence and consult their financial advisors before making any investment decisions.
Contact us
Website www.trakx.io
Email [email protected]
Twitter https://twitter.com/Trakx_io
Linkedin https://www.linkedin.com/company/trakx-io/
Join our community
Telegram https://t.me/official_trakx
Discord https://discord.gg/2tXtMaVc